At the time we bought the new house, it came with a non-functional old refrigerator. It was housed next to a slim cabinet that was further subdivided into a messy broom closet. It was one of the few real weak spots of the house: there was no pantry in the kitchen, or enough cabinets to serve that purpose. One of our priorities upon moving in was to somehow clear some space in the cabinets to make a pantry.
While we were having some
other work
done before we moved in, we decided to rip out the cabinet by the old refrigerator. We had discovered, in the course of shopping for a new fridge, that the old refrigerator was a size that is no longer available (42" wide, as opposed to the now-standard 36"). As a result, in a 72" wide space, the fridge took up 42", leaving only 30" for the cabinet. Knowing that we would buy a 36" wide new appliance, we could fit in a standard 36" wide cabinet as well.
We selected and ordered the cabinet from Lowes weeks ago, but the installer was only able to come out this past Saturday to put it in. After a similar number of weeks of putting off prepping the space, I put two coats of paint up Friday night, and the cabinet went in as scheduled on Saturday. Having never had a real pantry before, we are delighted. The house is starting to feel like ours now.
Before: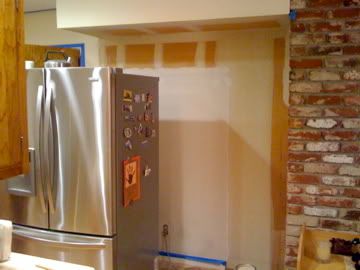 With paint:
After: