With our flight leaving at 4 pm, we had about half a day left in Shanghai. We finished the packing and loaded the car with our bags (which had increased by one borrowed duffel bag to accommodate our souvenirs).
Kelly with her newest pal, Ryan:
Cheryl, Kate and the kids headed out to do some (more) last-minute goodie-buying. Greg and I headed back into town to see some of the massive electronic stores. You can travel miles and never go outside. These places take up floor upon densely packed floor of buildings spread across multiple city blocks, selling every piece of electronic gear imaginable. One or two items might not even be pirated. The only way to ensure that you are getting a genuine product, backed by a manufacturer's warranty, is to go to nearby Best Buy. The tradeoff for buying a legitimate item is that Best Buy's prices are not negotiable.
This is one of the fancier locations, which resembled an American mall: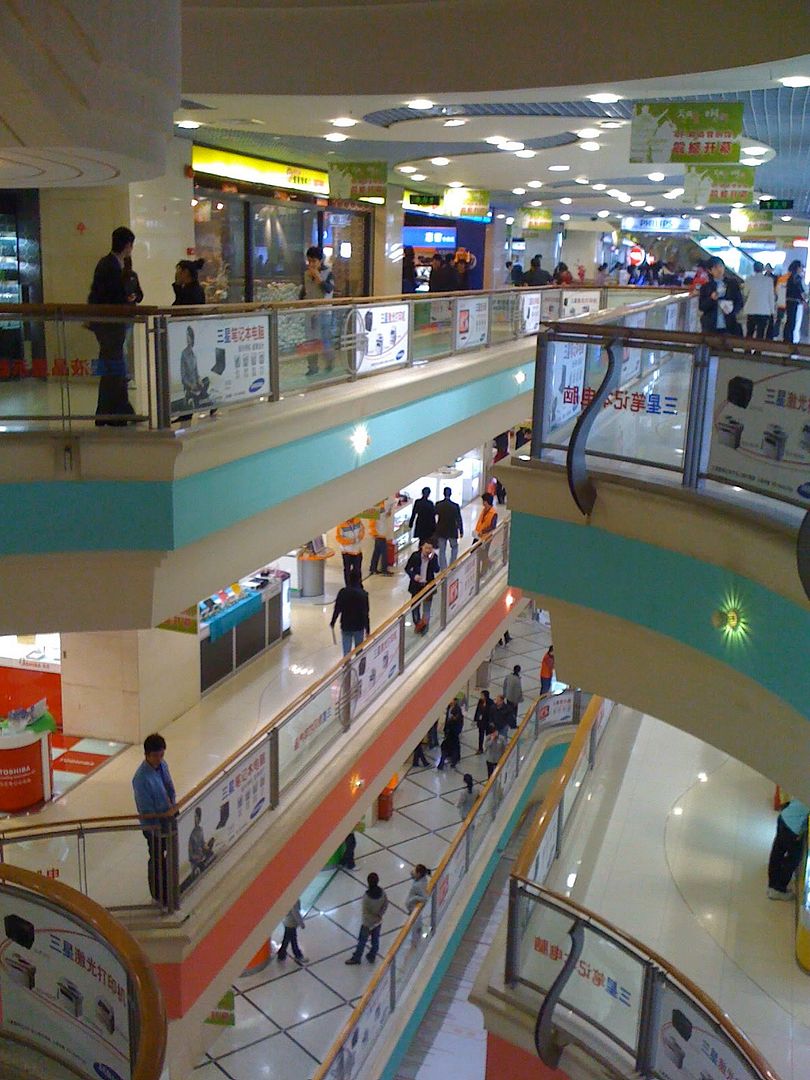 In the basement of one of these places was one of the best food courts I've been two. That's not a high bar, but this one was great. There was a Burger King, but also counter after counter of Asian foods of all kinds, from Mongolian barbeque to Indian food to, of course, traditional Shanghai dumplings. For a couple of bucks, we happily spoiled our lunch.
To get to the electronic stores, Greg and I had taken a subway line that had a station about 300 yards from their house. The line had been under construction since they moved in, and the new line opened that morning. We were among the very first people to ride it. Everything was ultra-clean, of course, but the new station also exhibited odd deficiencies in build quality that spoke to a general disregard for pride in workmanship.
We took a taxi back across town to meet up with the rest of our crew, who were having lunch at the Blue Frog, a restaurant on Hong Mei Lu, the pedestrian road with restaurants from all over the world where we ate breakfast our first morning in Shanghai. I bought my only personal souvenir there, taking home a tall bar glass to add to my growing collection. The restaurant advertised the glasses for sale, but when I asked for one, the bartender just grabbed one from the drying rack, toweled it off and put it in a bag. That's not quite what I expected, but at least I can say it's actually been used in Shanghai.
From there, we parted company with Kate and her kids and Greg drove us to the airport. The novel but somewhat useless Maglev train blasted past us on the way. We arrived with several hours to spare, and some airline seats to arrange. I tried to request the same seats in the back of the airplane we had coming out from Los Angeles, but they were already taken by some savvy travelers. We did manage to get seats together all the way home, though. I also noticed that our bags were only ticketed through Los Angeles, so I had them redo it to go all the way through to San Francisco. I patted myself on the back for that one; I'm way ahead of these people now.
The Shanghai airport has a very traveler-friendly departure lounge, with lots of food and shopping options in a wide, windowed concourse (which offered expansive views of the grey-brown smoggy skies). The airports in both Shanghai and Seoul situate the departure areas a floor about the actual walkway to the airplanes, which allows for broad views of the outdoors. This is far superior to the narrow , ground level views available at most American airports; the new Asian airports get this right.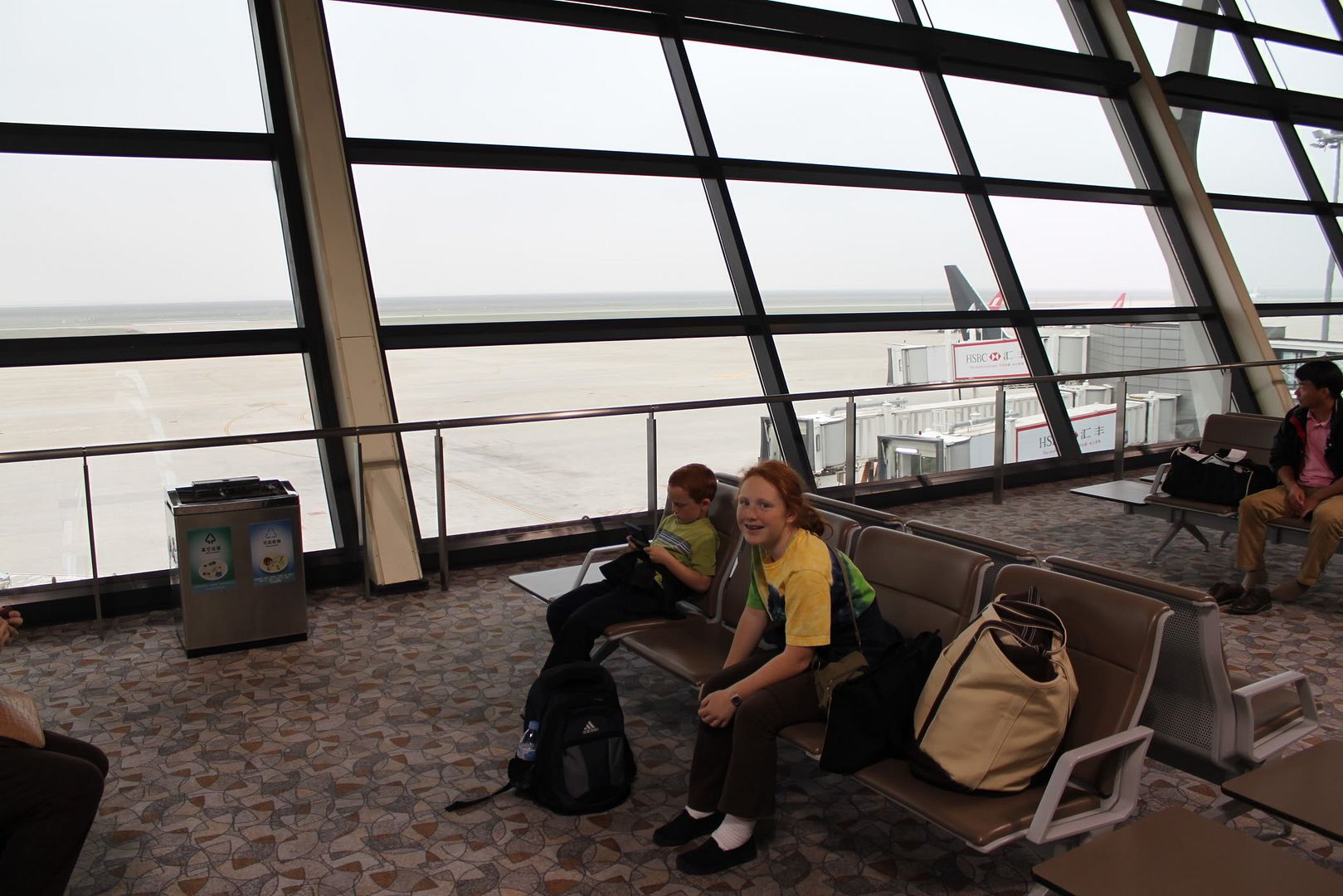 The flights from Shanghai to Seoul, where we had a very short layover, and Seoul to Los Angeles, were uneventful. I was less comfortable on the long trans-Pacific leg, but the time passed reasonably quickly thanks to two movies and a couple of albums on the entertainment system. We landed in Los Angeles on a warm Saturday afternoon, about half an hour on the clock before we left Shanghai. You have to love the international date line. We trudged through the utterly charmless hallways to the customs checkpoint. We had nothing to hide or worry about, but there is still something unnerving about being interviewed by the customs agent. It seems friendly and innocuous chatter, but every word is spoken with a purpose. We were also informed that, notwithstanding the assurances that apparently every foreign ticket agent gives to travelers, you must personally collect your luggage to get through a second check point. In Asia, the airports were spacious, clean and well-organized. LAX was the complete opposite: crowded and chaotic, with poorly marked instructions. We stayed out of a very short luggage check line because it had a sign posted that restricted the line to handicapped people. As our line went nowhere, we watched with growing frustration as a few "unauthorized" people used the line and exited quickly. Two airport policemen came by and someone in the line asked about the restricted line. One of the policemen chuckled and said there was no restriction on the line. As the went on their way past us as people rapidly filled in the newly unrestricted line, the policemen laughed to each other, yukking it up in disbelief that anyone would follow the directions on the posted signs; such rubes. I guess a lack of pride in workmanship is not limited to China.
We took our luggage over to an intermediate room where people with connecting flights are to leave the bags (why doesn't teh airport do this?). There was no obvious place to leave the bags, as there were a couple of conveyer belts, a couple of counters, and an airport employee with a printed flight list in hand trying to catch people as they came through. I took our bags to her when she offered vague assurances that we were roughly in the right place. She started to check our bags against her flight list, but was distracted by the next glut of confused passengers, so we left the bags and moved on to the long hike down to the United domestic terminal.
Sitting in the United departure lounge waiting for the flight home, something nagged at me -- ah, hello again, worry demons. I pulled out our boarding passes, and checked them against the paperwork I received in Shanghai from the Asiana agent who had checked out bags. Sure enough, inexplicably, the flight numbers did not match. United did not even have a flight number that matched out bags at all. I jumped over to the United customer service desk to sort out this last travel issue. I explained that our bags had actually made it to LA, but they were labeled for a flight that did not exist. The best the agent (who, to her credit, was very friendly and appeared to be competent) could do was put a note into the system informing anyone who came into contact with the bags that they were supposed to be on such-and-such a flight to San Francisco. By that point, less than an hour before our flight, the bags may have already been picked up and dropped ... somewhere. I thought back to the transfer agent who had not taken the time to check our bags against her printed list of flights; I have learned to react when I hear that little nagging voice, which piped up when the harried transfer worker started but did not finish looking up our flight. I could only shake my head in rueful admiration at the determination of the travel-hell demons to screw up our travel. They were going to get me at the very end.
Our airplane had arrived, so I watched out the window, pondering how long it would be until we got our clothes and souvenirs back. That's when the luggage carts arrived. Incredibly, I saw two of our bags actually go into the aircraft. I figured that if two were there, the other two were also there. In another unexpected bonus, we had somehow ended up in United's economy plus section, which is the section for people who have knees. We had more room there than we had had on any of our other flights.
Finally, after hours of travel, we arrived back in San Francisco. Even better, so did all of our luggage.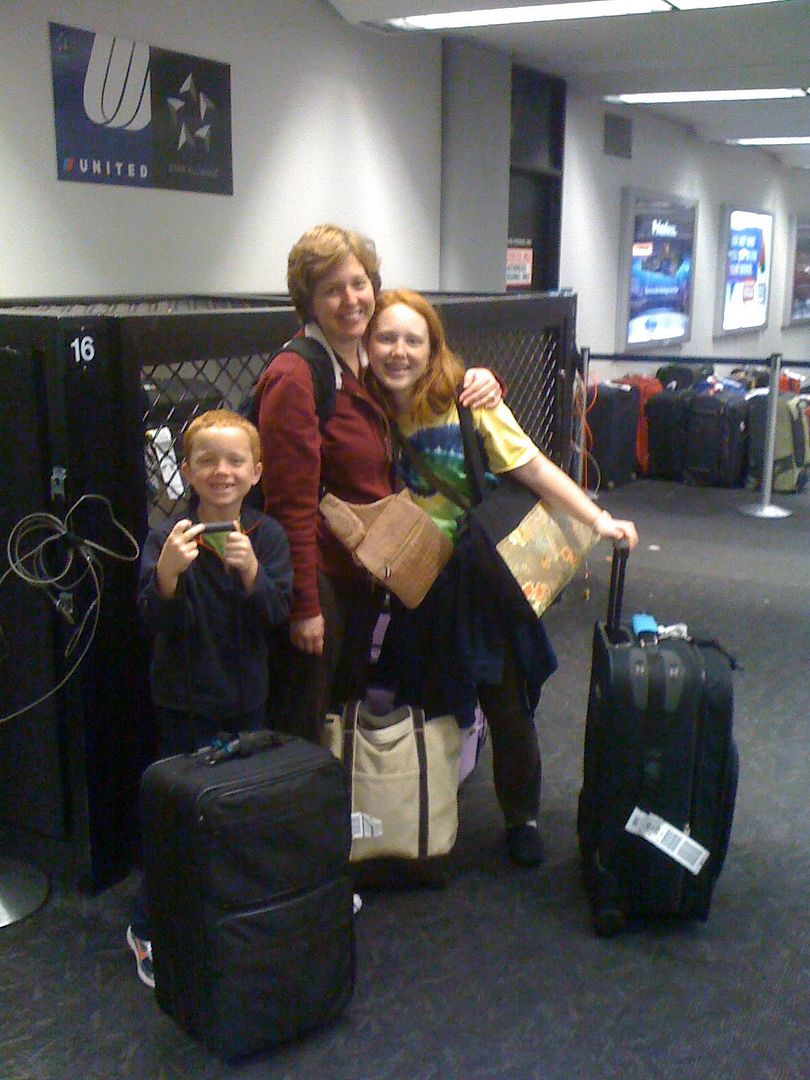 After the hike to the shuttle bus, the bus trip to the car, and the drive home, we staggered off to bed by about 10 pm. I was the first to awaken on Sunday morning, at 10:30 am. Michael was the last up, at 1:30 pm. I went into work on Monday, but succumbed to jet lag for the afternoon. None of us felt back to normal until Wednesday.
Before we left, we were very excited to see our friends, but only generally interested to see China. It is not someplace I ever would have chosen to go. Having returned, we are all very grateful for the opportunity we had to visit Shanghai; it is an incredible city, full of energy and contradiction. There were no white-sand beaches (those will be for the next trip), but it was a fantastic trip of a different sort, where we soaked up a culture very foreign to us and thoroughly enjoyed the experience. Greg and Kate were incredible hosts, and we enjoyed our time together as friends as we always have, wherever we have founds ourselves in the world. Our lives are better for having made the effort to go.