Being an eighth grader with very high academic achievement did not keep Kelly from adding on to her schedule with two sports simultaneously. Building on the enjoyment she has found with volleyball, Kelly played on her school's eighth grade "B" team. The tryout was immediately after Labor Day and she was too rusty to show her full capabilities, so she did not make the "A" team, but the blessing in disguise is she was always on the court.
The team was a mixed bunch of good players and novices. They did not receive much in the way of coaching, but they practiced three days a week (including a pre-dawn Monday practice), and played a lot of games against other schools in the area. There is something qualitatively different about playing for your school, and I think they enjoyed it. They won several matches to end with a record somewhere around .500. They were swept out of the season-ending league finals tournament, but they played with spirit, had fun and might have learned a little volleyball along the way. Kelly played well, improving all parts of her game, and developed a dangerous serve that saved the team many times.
Even though she does not play on a club volleyball team like many of her peers (especially the players on the "A" team), she is looking forward to continuing her volleyball career in high school. At a minimum, we expect that she will be able to make the freshman team. With regular practices and good coaching, maybe she will be able to continue on beyond that level. If nothing else, she will always have a sporting skill she can enjoy on beach trips, at picnics and with her kids for the rest of her life.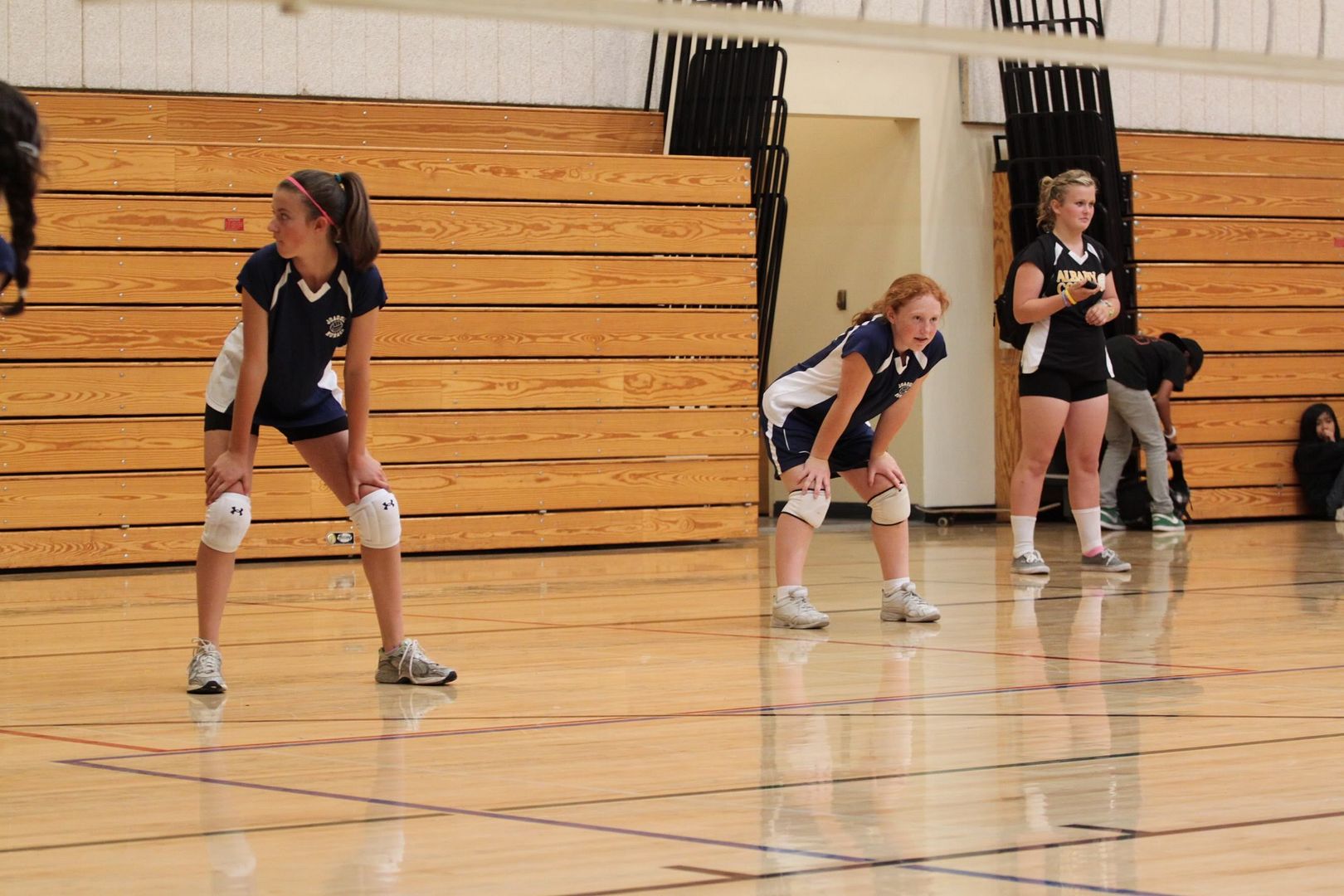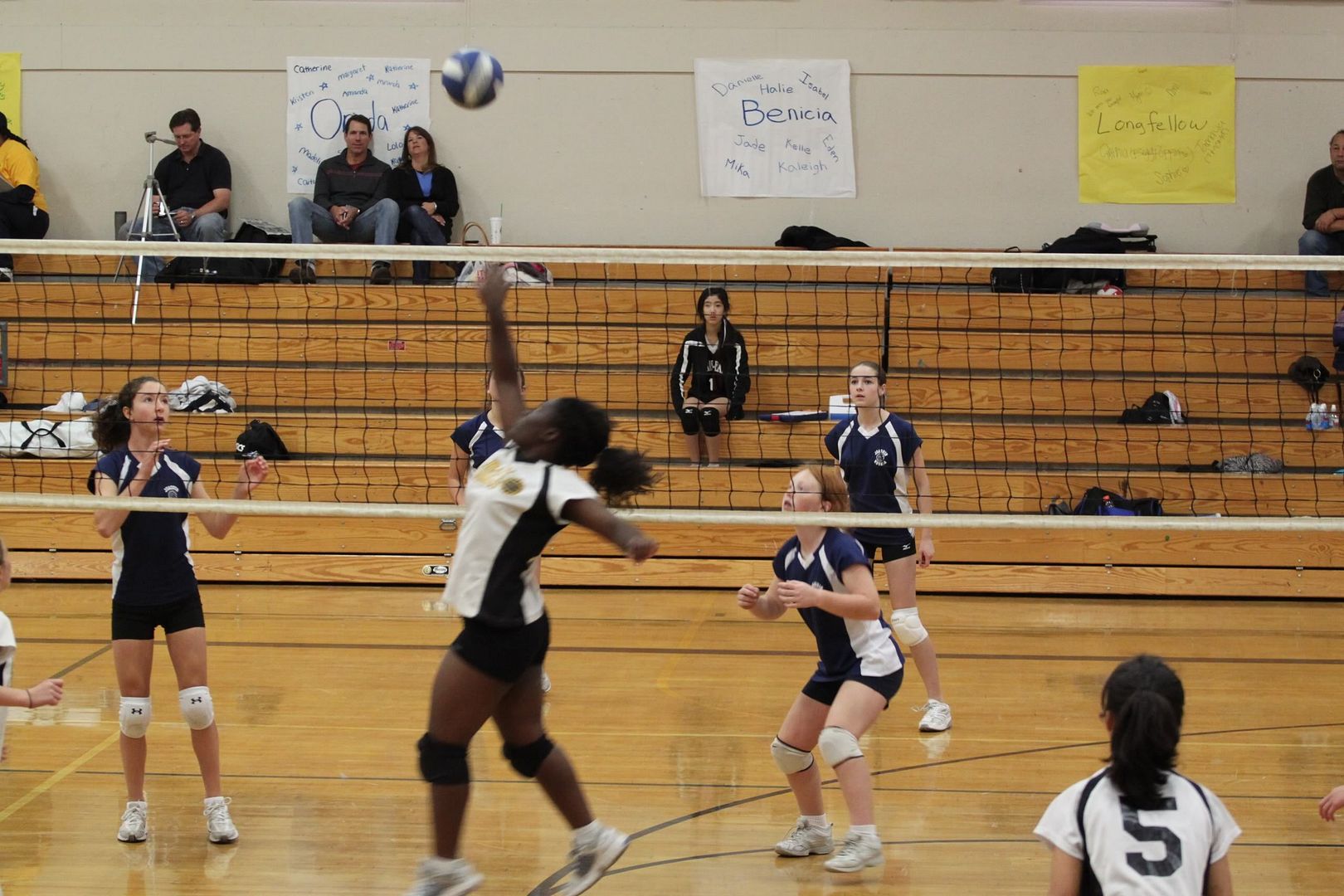 One sporting career that may be coming to a close is soccer. Soccer was our first team sports venture as a family. It was the only point of reference I had for youth sports, so the many, many afternoons I spent watching Kelly practice, or the collective hours we spent after practice kicking the ball to each other, reverberated across years for me. Soccer also gave Kelly a sense of identity and pride when she really needed it at times during elementary school, when the vicious society of girls bared its sharpened fingernails from time to time. I have been dreading this year, knowing it would represent the closing of a major chapter in her life, and my life as well.
Kelly's team, unfortunately, had an overabundance of seventh graders and just didn't quite have the skill to keep up with the other teams in the league. They did manage a win against an Orinda team, a game in which Kelly scored twice, and forged a draw with an archrival Moraga team that was as thrilling as a win. For her part, Kelly had a good year, scoring most of the team's goals and putting in lot of time as goalkeeper as well. She hated playing goalie, but she had good instincts for closing down opposing breakaways (which she faced too often), and the coach needed her back there as much as he needed her offensive skills. To his credit, the coach also put his own daughter, the best player on the team, in goal as well. Because of volleyball, Kelly missed most of the practices, as did several of her teammates, which probably contributed to the poor showing on Saturdays. Overall, the girls played good soccer, better than their record indicated, and they had a good time together.
The bonus to the season was that Kelly was selected to play on the All-Star team for the second year in a row. The game was again played on the football field at the local high school. Kelly played well, offering several dangerous crosses to her fellow strikers, although none turned into goals. Also for the second year in a row, our Moraga girls beat the team from neighboring Lafayette. That allowed all of our eight graders to finish their soccer careers on the highest note.
Kelly rediscovered her love of the game of soccer by the end of the season, and was reluctant to let it go. As with volleyball, Kelly never played soccer with the local club team, which will probably keep her off the high school roster. Still, she is thinking about trying out for the high school team next year. Every time I surprise my kids with my few stories of high school track, I think about all the stories Kelly will be able to tell, amazing her own kids with tales of her All-Star days and afternoons spent in gyms and on fields.
Kelly's achievements in the sports arena are praiseworthy, but it is the self-confidence that sports have brought her that make me glad we gave these opportunities to her. Selfishly, the hours Kelly and I have spent together working on her skills, when she willingly sought out and soaked up my guidance, will be what I will miss the most. It's what I miss already.