As soon as the Campolindo freshman baseball team picked up its first win, the schedule called for a hiatus for several weekends for spring break.
When the action resumed, the boys again faced Las Lomas, who had prevailed in a deeply frustrating early-season doubleheader.
The freshman boys seemed to be inspired by the varsity squad's big victory in the early game, including two home runs by one of Michael's teammates from back when he was nine, when Michael looked like this: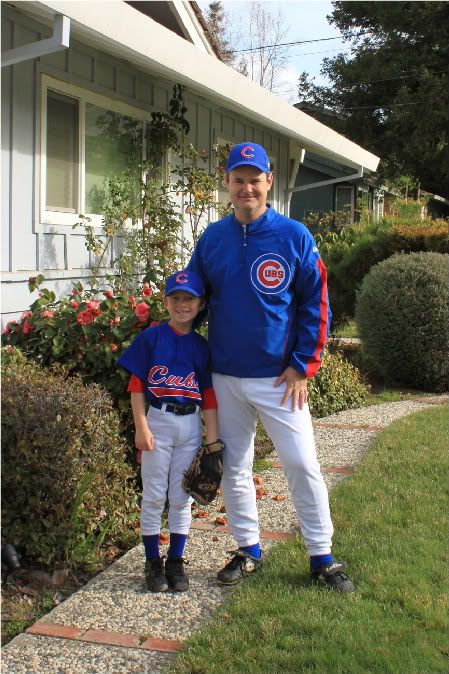 Much changes in six years, but not the love of the game
The freshman boys came out of the gate quickly.
Michael let off the game with a single, and although he was thrown out trying to steal, Campo still managed to push a run across in the first inning.
The team's ace took care of business for the next five innings, not giving up any runs and striking out ten.
The boys had a great day at the plate, none better than Michael.
In addition to his single in the first, he had a run-scoring double in the second, a run-scoring double in the fifth, and another single in the sixth.
Muscling up an RBI double
Safe all the way
He also alertly stole third without a pitch or a throw in the second inning, which allowed him to score on a ground out.
He finished the game with four hits, two runs batted in, a run scored, a stolen base and five errorless plays at shortstop.
Over the years, Michael has had several games with three hits, but this was his first four-hit day.
A good day at the plate and in the field
One of our mainstay relievers took care of the sixth inning with three strikeouts.
Finally, a player who had been expected to be one of our key pictures until he hurt his arm in the preseason took the mound for the first time in the seventh inning.
He was a little rusty, but he worked around a walk, striking out two to close out the 7-1 victory. It was great to see him back on the mound, finally getting the opportunity to show what he can do.
The boys played well in every facet of the game.

Nearly every player had at least one hit, the pitching was outstanding, and they played nearly mistake-free in the field.

We were a little concerned that
after two months of playing ball nearly every day,

the layoff over spring break would set them back.

After the stumble out of the gates at the beginning of the season, we did not want to see the improvement they showed just before the break to go to waste.

The boys emphatically put our concerns to rest.

It was one of the most complete games this crew has ever played, and a very welcome payback for the doubleheader loss earlier in the season.

Onward and upward!
About as serious as you will ever see this group