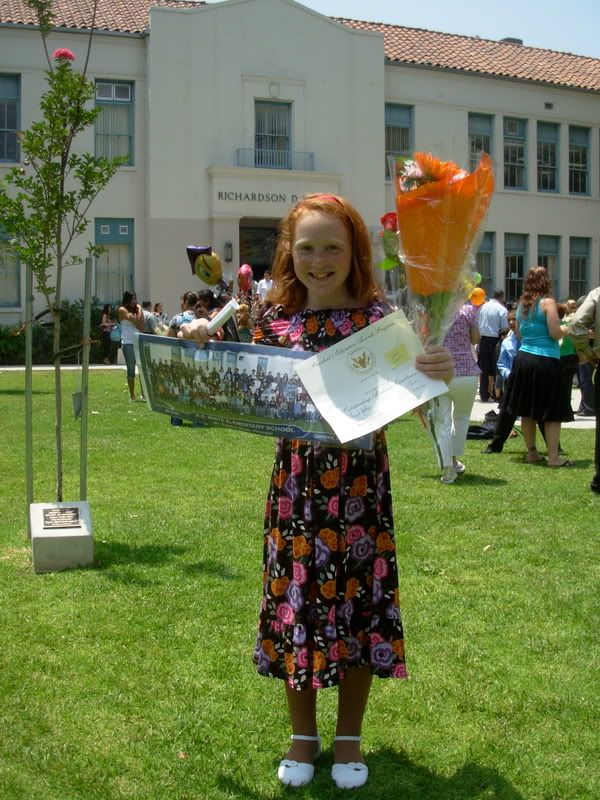 Yesterday was, finally, the last day of school. Because the school will be dropping sixth grade next year, the fifth graders also got a promotion ceremony. The kids and parents all complained about the many hours of practice the students went through over the last week. The result, however, was the most intricately choreographed graduation ceremony I've ever seen, and the kids absolutely pulled it off. The students processed down two aisles in the auditorium two by two, with pause points at four different spots (I have yet to see bridesmaids who can do this so well); they all went swiftly to their appointed seats; just as the processional song ended, the last student arrived at his seat; they sang a song in great voice; they sat wordlessly and motionless through an hour and twenty minute ceremony; and they received their (fake) diplomas in a swift, intricate processional as announced by each of the fifth grade teachers who also were on top of their game. Most of the kids complained the loudest about one of the teachers who was the drill sergeant for the whole thing, but that teacher (new to the profession, who looked like she was skipping homeroom at the local high school to be there) was unable to stop crying for the rest of the afternoon, she was so proud of how well the students did.
Kelly received a top award at the ceremony, one of a few students whose standardized test scores, grades and citizenship marks were at the top of the class. [Sorry, no pictures of the ceremony itself. Our little camera can do a lot of things well, but indoor, low-light environments are not its forte. It's time to save up for a proper DSLR.)
As a huge surprise, Cheryl also received an award. For her six years of leadership the foundation that raises money for the school, including complete funding for the school's computer lab and teacher through means like the eScrip program that she spearheaded, she was called up on stage by the principal to receive recognition, a trophy and a very nice watch. It was recognition that was well-deserved for the Foundation as a whole, which does more good than most people knew. It was a sweet way to part ways with a school in which Cheryl invested herself heavily.
Not incidentally, yesterday was also the last day of kindergarten for Michael. We went to a special lunch (Marie Callendar's), then caught an afternoon showing of Wall-E (Michael's request for weeks). It was a perfect last day of school, even if it was bittersweet because it is really the
last
day there.