One of the last posts here before the hiatus was to celebrate that Michael played his way onto the top youth league team's roster. Four years later, it was tryout time again, this time for the high school team.
Starting in September, the baseball program held workouts three times a week. In November, the workouts became went into the weight room, a first for Michael (where he developed a reputation he coveted as a bit of a strongman). He participated in those workouts, one of the very few freshmen to take part. He spent a lot of time with players from the years ahead of him, showing that he could keep up with them. As the year rolled along and tryouts came into view, I advised him to set his sights on the top players in the program, not just the top freshmen. Unlike youth sports, high school sports can be brutally Darwinian: performance, not participation, is rewarded. Michael's best chance to get and hold a roster spot is to show that the program as a whole is better with him in it.
By his account, he had a strong week week of tryouts for the freshman team, impressing the coaches with his arm strength and bat control. The freshmen tried out with all other players trying out for the junior varsity team, so he could compare himself directly with the shortstop candidates ahead of him. He felt that he outplayed those guys, and the JV coach in particular gave him a lot of attaboys. Michael entertained the slight hope that he would be placed on the JV team from the start, but the numbers suggested otherwise. There were many more players looking to make the JV team than there were available roster spots, whereas there were only enough freshmen trying out to populate a full team.
The last tryout event was a scrimmage against a private school in Marin County. The school is private and had a full artificial turf baseball diamond, which was necessary in this rainy winter. Our boys hadn't earned uniforms yet since tryouts were ongoing. Although most of the team was made up of guys how played together last spring (and several springs before that), most of them hadn't played baseball at all since June, and even Michael hadn't played an actual game since August. Our ragtag group of freshmen acquitted themselves well against their fully uniformed opponent.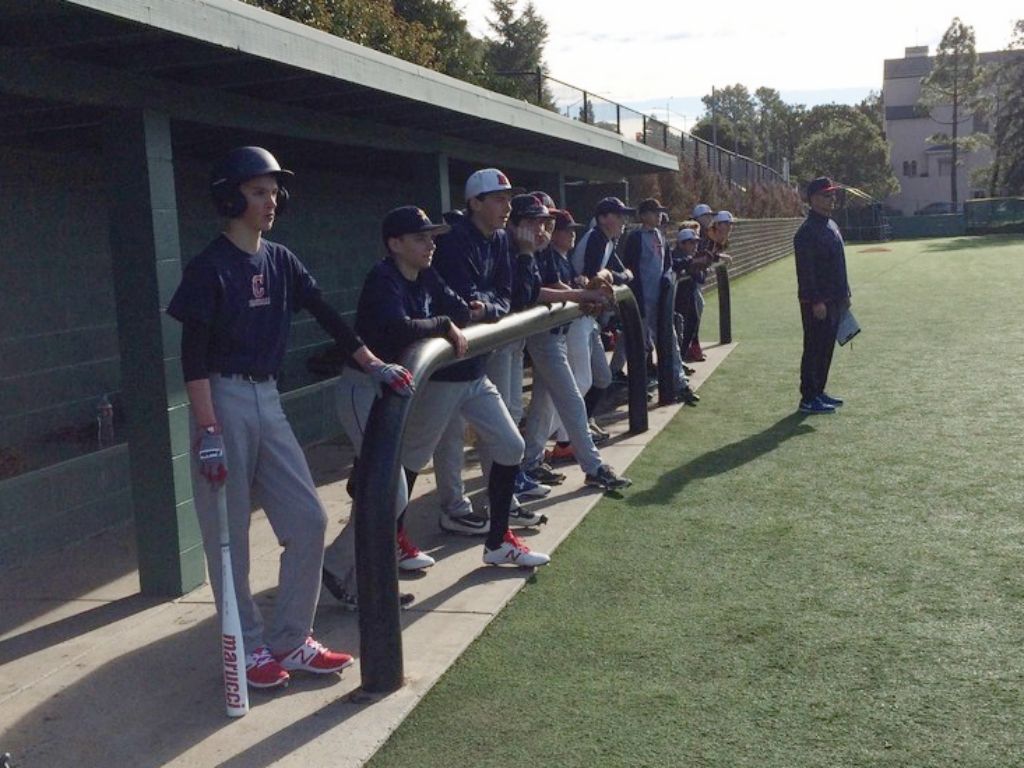 They pay attention to the game much more intently now
Michael played shortstop most of the game, and was brought in to pitch an inning late in the game. He had not pitched - not taken even a single throw from a mound - since May, so he was a little rusty. He got through the inning with a couple of walks but no runs, inducing a weak popup and a double play ground ball. He hit leadoff, drew two walks, stole a base and scored a run. The varsity coach, who also coached Michael last year in the fall, spring and summer seasons, made a point to tell me, and then the freshman coaches, how impressed he was by Michael's baserunning technique. We're getting up to the level now where I can barely see the subtleties the coach sees, so his unsolicited comments were a huge compliment.
"I think I remember how to do this..."
By the end of the day, the team roster was out ... we have ourselves a high school baseball player.
Readers with photographic memories, or those with way too much time on their hands, may notice that several of the sames are the same as those on the roster when these boys were 11. We think the world has moved on from what it has been, on its way to something newer, better or just different, because we think that is the inevitable way of the world. There is something sweet, then, about so many of these boys continuing to play together in an unbroken line from when they were hardly strong enough to carry their equipment bags through these days when they are on the cusp of becoming men together. In a Facebook post about the scrimmage, I borrowed part of the famous soliloque from the unabashedly nostalgia-tinged baseball movie "Field of Dreams" that I think applies perfectly now, as it always does:
The one constant through all the years, Ray, has been baseball. America has rolled by like an army of steamrollers. It has been erased like a blackboard, rebuilt and erased again. But baseball has marked the time. This field, this game: it's a part of our past, Ray. It reminds of us of all that once was good and it could be again.
Now come the daily practices and unique pressures of auditioning for a spot on next year's team even while playing this year. We're all ready for it, and can't wait to get started.
Somebody spent some time in the weight room